Welcome to the final 16 games.  Current standings place Columbus in 6th place, only four points out of 5th place, and only two points ahead of 9th.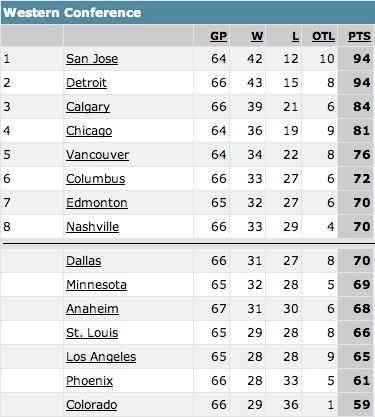 Does this concern anyone?  It should.  The Blue Jackets are 5-4-1 during their last ten games, the majority of those wins coming in the early stages of that ten game stretch.  A massive win against Detroit certainly rebuilt confidence in the team from the fans perspective, but as we have seen in past years, strong finishes are far from what we as fans are used to.
With the addition of Vermette, but the loss of players like Mike Peca and Freddy Modin, the Jackets will have to find new forms of chemistry with different players to really create the depth necessary to retain a spot in the playoffs.  With so many teams trying to acquire the 8th spot, it will take at least double digits in wins, which means an 11-5 or 12-4 run will be absolutely necessary.
What do you fans think?  Do we stand a chance against some of the other teams like Nashville who are streaking right now?  Will it take a change in the lineup, or are the lines we have formed sufficient?  Who will be the whipping boy down the stretch?  
My players to watch are RJ Umberger, Steve Mason, and Antoine Vermette.  RJ has been huge these past months in terms of energy and secondary scoring.  He scored his 22nd and 23rd goal of the season on Saturday, and I am ready to watch him score thirty goals this year.  Vermette's presence showed a high quality special teams on Saturday against one of the league's best, and if he can continue to bring that presence, his numbers will also be on the rise.  Something about Nash and Vermette on the penalty kill actually gets me excited!  Finally, the Mase.  He was huge against Detroit, and he will have to be huge again.... Probably 15-16 times.
Carry the Flag!