I am going to start this with a disclaimer: Rick Nash is an All-Star hockey player. There is no denying it, and I never would. In fact, during his entire NHL career, he has been one of my favourite players to watch, especially considering he went through the London Knights OHL system, which also happens to be my home town. Frankly, I love everything Rick Nash brings to the sport of hockey, and I would never question his capacity as an elite player. Quite honestly, I am doing the opposite. I am not questioning his capacity to be an elite player, I am questioning where elite Rick Nash has gone.
Specifically, Rick Nash is classified as an elite hockey player, but he has been far from elite this year. It is such a dangerous word to use in hockey, because it elicits the absolute best, and to this point I am not even sure if he has been the best player for the Blue Jackets this year. When I think of the term elite, I think of Ovechkin thrashing through three players are ripping a shot over the goalies shoulder. I think of Sid dragging two players into the corner, only to loop, fall to a knee, and make a perfect saucer pass to a wide open winger for the easy put home. I think of Pavel Datsyuk and his unspeakable way of making the goalie go the completely wrong way with the simple shrug of his shoulder before burying into the empty net.
With those baselines set, I think back on the six games the Blue Jackets have played to start the season, and I am left with absolutely nothing that would give Nash the right to stand among those players noted above. Has he been decent? Sure, he's found his name on the scoresheet a few times, and is on pace right now to score 82 points this year, but at what quality are these points coming? Are those six points all he could have accumulated?
Offense
Has he wow'ed you yet? He has not wow'ed me with his offensive plays. He has his newish 'go to' move of flipping the puck up in the air and just trying to skate around people while attempting to regain possession. That hasn't worked. He tries to circle with speed and roll through 3-4 players at a time with his head down. That hasn't worked. He has taken 18 shots on net, but have any of them been all that impressive?
When I comment on these efforts, I get a whole lot of "well, he's not used to having linemates to make passes to" in response. I get that, but if he's that damaged as a hockey player, why are they building the franchise around him? I find myself attributing him to Lebron (don't flip out, read on) a lot. He's an absolute stud with the puck playing at 100%, but he is also one of the more gifted passers I have ever seen. Unfortunately, his natural instinct appears to be designed to press the issue towards the net or walk the perimeter looking for the lazy pass.
Defense
I remember reading a bit about Hitchcock the other day, discussing how he made Modano into a two way player rather than just a scorer, and did the same thing for Nash in Columbus. In fact, that soundbyte may have come from Nash directly (don't quote me on that though). So why then, am I watching him lazily make his way back into the defensive zone without any real effort? If you're looking for a prime example, I need not go further than the Benn goal from last night. Certainly there are three other Columbus players who would have liked to have this one back, but what exactly is Nash doing here? He commits to the coverage twice only to back off both times giving Benn the free lane towards the defense and the net.
I think it's an issue with his compete level. He had some of the highest on ice minutes for forwards yesterday, but also had some of the longest shifts. Some may define that as hard work, whereas I define it as him not pushing himself on the ice enough to get tired. I welcome criticism on this, so please feel free to provide me with specific examples where his compete level on the ice is consistent with legitimate hard work, but the term 'floating' was used between myself and my fellow spectator at the game. How many 'elite' players get tagged with the term 'floating' more than five times in any game?
Solutions
I am not going to limit this lack of compete level with just Nash, but he is the captain. I have read countless articles praising him for his 'lead by example' style of leadership, but if that is the case, it comes as no surprise to me that this team is taking periods off at a time. I think Nash really needs to step his pace of play each time he gets on the ice, with both his backchecking and his play without the puck in the neutral and offensive zone.
With the puck, I would like to see him make a competitive play and then look for a solid pass to an open player. With the talent he has, it shouldn't come as a surprise when the opposing team doubles up coverage on him, and when that happens, I want to see him hunting for a passing lane, not just forcing the issue towards the net and eventually losing possession. I think there's plenty of room for him to find the back of the net this year, but I would also like him to embrace a bit of a 'dishing' role and make an attempt to pick up 50+ assists this year. Who knows, maybe once that player receives the pass, Nash can sneak behind the double team and find a solid lane to receive the return pass. 40 goals and 50 assists is not even remotely out of his realm.
Does anyone remember this letter? I sure do.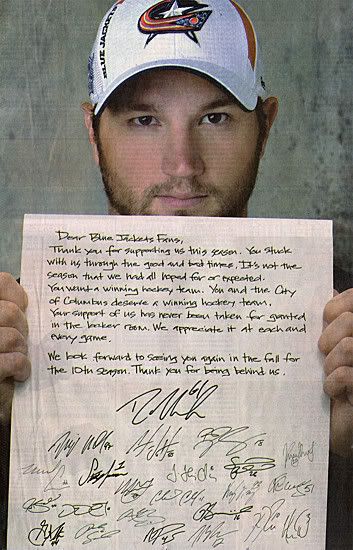 If that is the case, Nasher, I think it's time you start showing how much you care on the ice. It is important to me as a fan. I need to know you want the win as bad as I do.
...and you're still awesome. And I am still a huge fan of the way you 'can' play hockey.
Carry the Flag.