Midway through the second period during the Columbus/Vancouver game, Marc Methot was penalized (fairly) for boarding Sedin as he played the puck into the Columbus end. This was briefly discussed as a potential "Shanaban" scenario for many, and here are some pictures to show just how the play happened.
Sedin is sideways receiving the pass along the boards. As he makes a move to continue the puck on into the Blue Jackets end, he turns his body towards the boards. During that move, Methot comes in with the intent to essentially plaster Sedin with a big hit.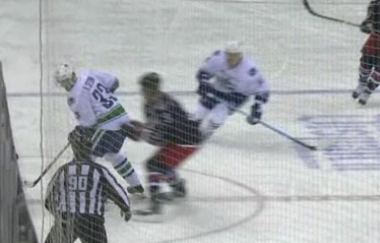 As he nears him though, it becomes obvious that he will only be hitting numbers, and he begins to lay off the hit. He is clearly committed to making contact with Sedin, and he sends him into the boards generating the boarding call.
This image shows post connection. Now, on many of the suspended hits from behind we have seen this year, there is little to no indication of stopping on the hitting players behalf. As the picture above shows, Methot makes a conscious effort to avoid demolishing Sedin, and while he made a pretty solid attempt of embellishing the hit, there was no real injury on the play. He played in the resulting powerplay, not missing a beat.
I think the decision by Methot is exactly what the league wants to see. He certainly deserved to sit for two minutes, but this is what I believe to be a textbook two minute boarding penalty, not an intent to maliciously injure a player or something that is deserving of a suspension.
Edit: The league agrees with me, as many are reporting that Methot will not be receiving further discipline from the league. I think this is a huge step in the right direction, and a bit of an easier pill for the fans of the Blue Jackets to swallow considering their obvious disdain for the statement call made on James Wisniewski in the pre-season.
Carry the Flag!